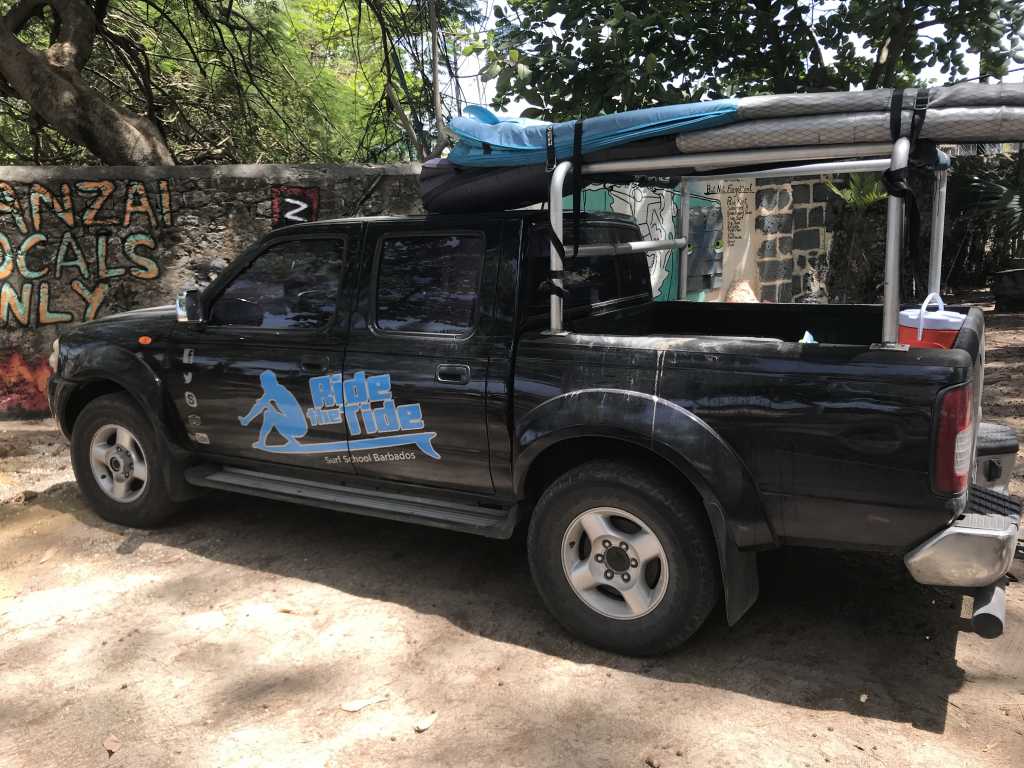 That's right our FREE hotel collection service is back again this winter. That means that any of our surfers that are booked to join us for surfing lessons can simply ask for a ride and we will come and get them from their place and take them back when their surfing lesson is complete.
So hows this gonna work?
When you make a you surf lesson booking just drop me a note in the notes section. Tell me where to come and get you and I'll be there to collect you. It might take a few more emails to get the fine details in there and firm up any arrangement so it's super solid. But asking is how you get those surf bums in surf seats.
There's gonna be heart break... The surf truck has limited spaces so it's gonna be first come first served. If there are no seats left available I just can't magic up another row of seats or squeeze another surfer in the tray. Alright, twist my arm and see if you get lucky.
Surf seats are for surfers only unfortunately. We just don't have the room for cruisers and riders.
The FREE collection route is along the South Coast only. That's from our place at Freight's Bay to the Hilton hotel in Bridgetown and any hotel in between. The Crane hotel??? outside the FREE collection zone. Up the West Coast is also outside the FREE collection zone. If you ask and there's room for you I will come and provide the collection service but it is going to have a small charge of USD$35. That's a one time fee for the surfers in the booking staying at the same hotel. If there's 1 of you surfing it's gonna be USD$35. If you're a group of 4 surfers it's gonna be USD$35.
I can only pick up from hotels and please be registered as a guest at the hotel you've asked me to come to. I will be checking...
So if you're lucky enough to grab one of our surf seats the surf truck will come and collect you so you can arrive in time to surf your lesson with us and it takes you back when you surfing lesson is completed. By all means stay with us at Freight's Bay and enjoy your FREE all day surfboard hire and surf all day but you will need to find your own way home if you do stay. The surf truck will have other surfers to collect and return during the day and return ride is not transferable, sorry dudes.
There are alternative ways to reach us. Like, you could drive your rental car. Plug in Google maps and Siri or Alexa or whoever is listening will bring you straight to us at Freight's Bay. Bus is another way to reach us. For the first time in forever the buses are actually comfortable and available on some kind of regular schedule I believe. I couldn't tell you where to find the schedule but I am sure there's one somewhere. A bus fare is BDS$3.50 anywhere on route and the new electric buses are way more agreeable than the ZR's.
So be an adult and find a way to our place at Freight's Bay. Make the effort to come and score some real surfing at a real surf break. "Find a way because that's what winners do" - Cody Maverick from the epic surf movie, surf's up (do your homework and watch that movie it will for sure make you a better surfer). Seriously, though, make the effort to come to Freight's Bay and surf., you'll not regret it. As with most things in life you get out what you put in.
This probably sounds like I don't really want to be doing pick-ups and there's too many rules. Well, there are too many rules because we've been burned in the past. Like that time I was set up to be robbed dropping off some wanna be gangsta from overseas in the Hickey dickery dock. Lucky for me I knew the guys from school that were setup to rob me and we ended up having a god laugh about it. And as a surfer I'd rather be doing surfing lessons than driving around Barbados, as I am sure to you guys would rather be surfing your lesson session and surfing solo with you FREE surfboard hire after your lesson. It's the truth what can I say.
So, there no excuse to not come surfing now. See you soon!