Where To Surf In Barbados:
Our Top 5 Areas
Barbados truly is a surfers' paradise! That's precisely why I've decided to stop here, right at home, and make it a home for myself where I can surf everyday.
There are only a handful of days each year that there really isn't any surf on the island. Those days are usually during summer months when the Atlantic Ocean is in full hurricane season and approaching or passing storms can create or leave behind either those very calm surfing conditions or very windy, choppy seas.
The island of Barbados is blessed to be located away from the Caribbean Sea and island chain, sat in the middle of the ocean. This means that it is exposed to swells from every direction. Strong North swell, during the winter months, will light up the East & West coasts with powerful waves. The East coast will undoubtedly see more powerful and larger surf since it looks out towards the Atlantic Ocean and catches the un-diffracted swell directly. The West coast, typically, has the calmest clearest waters that come to life with incoming North swell and has several surfing breaks that will deliver post card perfect waves, the ones every surfer dreams of, commonly found in the Pacific Ocean. Swell angle depending the West coast can really deliver some size and powerful barreling waves.
The winter season is the season for swell, surf and waves. You're most likely to find strong swells hitting Barbados between November - June. That's 8 solid months of solid surf. The Atlantic hurricane season brings with it a slower frequency of swells and they're softer too not being driven by the trade winds. There is an upside to the softer summer season. The East coast without trade winds on the back of every wave will produce some of the most perfectly clean and clear summer time waves that are just perfect for independent early and developing surfers. In the summer months the youngsters and surf grommets will be enjoying surfing the more manageable surfing conditions on the East coast.
In short, as long as you're prepared to look for a wave in Barbados you can find a waves on most any given day. Change your surfboard and change your mindset and you will be surfing.
Barbados, like anywhere else, has plenty of surf breaks to choose from. But, just like anywhere else has it's go to surf spots and go to spots are the go to surf spots because, simply, you go to those surf spots and get to surf. They're well known, reliable and safe. As in, you'll most likely have a few surfers in the water with you watching your back. These go to surf spots are accessible and there is a level of surf community security, car parking etc. So you're here because you want to know where to surf in Barbados, so let's get going...

1. Soup Bowl
The Soup Bowl is, Barbados' #1 & premier surf break. Kelly Slater ranks Barbados Soup Bowl as one of his TOP & favorite waves on the planet and he should know, he's an 11 time World Champ!
You can find Soup Bowl on Barbados' East coast capturing all of the swells from the Atlantic Ocean and any North swell will really turn the place on with steep, fast & hollow right handers. Soup Bowl can deliver the goods on any day but on its day it can deliver a challenge that only the BEST surfers will be able to get the rewards.
It is a reef-point break so will be rocky under-foot and sometimes urchins can make getting in and out of the water difficult. Not a problem if you know the safe channels and spots to get in and out, make use of the rip. Soup Bowl is a wave for the experienced surfer and its physical features such as the reef bottom, current, rip & wind make it a break where it's better to ask and be shown how to rather than risk it.
Resident locals may share a strong word occasionally which might feel like localism but it is usually for the greater good. So don't go taking anything personally. Surf safely within your own ability, respect the line-up and remember that less competitive breaks like Parlor and High Rock are just a short paddle or walk along the beach away.

2. Brandon's Beach
Brandon's Beach is the South coast go to surf break. It is super central and has a beach load of free parking. On the Barbados island map you will find it marked as Drill Hall Beach. In the winter months you can expect it to be on daily serving up some long lefts with multiple sections.
It is another reef break but has a sandy end for easy entry and exit towards the Hilton hotel end of the break. Be careful coming into the beach over the reef, it gets super shallow super fast. Brandon's is super popular in the winter months and when the waves are good you can expect a thick crowd. In the summer months Branden's is much smaller and becomes and hot spot for surf schools and new surfers when Freight's Bay is flat.
3. Sandy Lane
Sandy Lane is a reef break on the West coast of Barbados. It's right in front of the world renown exclusive beach hotel Sandy Lane. Expect beautiful lefts in super clear blue water that will take you all the way to the beach. 
A small line-up area can get busy when the swell is on, Sandy Lane is the most central of the West coast surf breaks with plenty of easy free street side parking and it is by far the easiest of the West coast waves to surf.
Sandy Lane can gte big with the correct swell direction and can get hollow on the classic days. It's a fairly shallow over the reef and low tides can see dry reef exposed on the right for any surfer brave enough to give it a try.
Sandy Lane is a really easy break to surf if you know how. An experienced surfer will jump straight into the rip from the beach and let it pull them all the way to the line-up, ride a wave towards the rip and finish in the rip ready to be pulled back to the line-up. The peak is fun to take off deep and almost "back door" the take off. Too deep and miss the wave you can expect a world of work recovering from the impact zone on bigger days.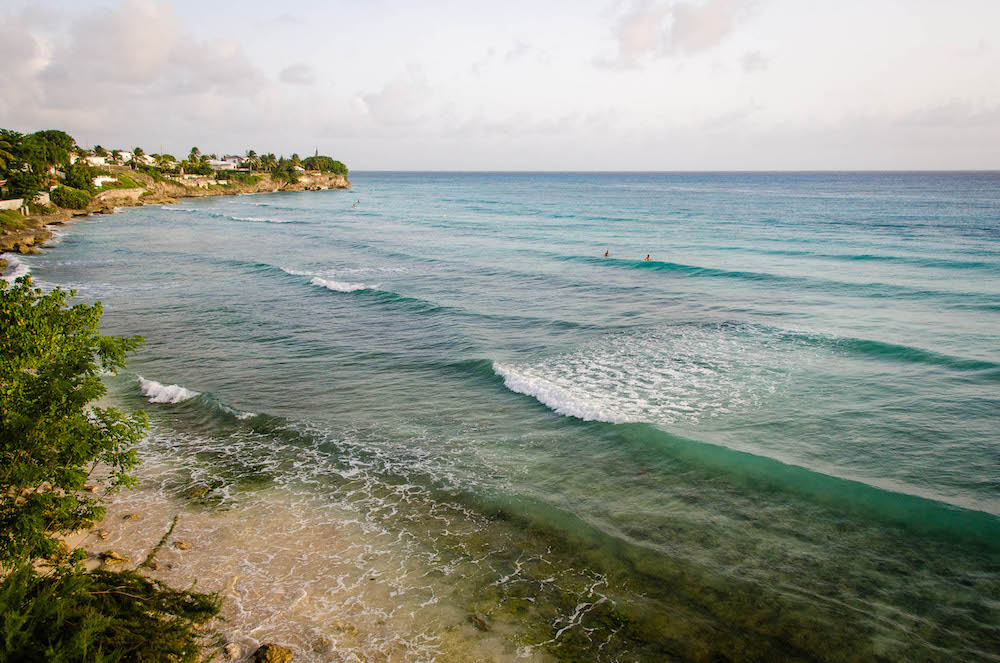 (Image: uncommoncaribbean.com)
4. Freight's Bay
Freight's Bay is our home break and during the winter months 99% of our surfing lessons will take place here. We've got a massive quiver of surfboards for rental and hire, bicycles are available for hire - super useful for visitors staying in the Atlantic Shores neighborhood.
From our place we literally cross the street and we are in the water. It is super convenient for surfers hiring surfboards and great for our surfers joining our surfing lessons looking to take advantage of our FREE all-day board hire. You really can surf all day at Freight's Bay. Most of our surfers take a break after their surfing lesson and come back across the street to base camp (the surf shop) and rehydrate with some ice water, take a snack or even head into Ositins to buy food at one of the many kitchen/restaurante stores that cook up some awesome local fish meals!
Freight's Bay is a super easy break to surf and it's just perfect for longboarders with long peeling lefts. The break is shallow and easy to walk around freely without booties. There are 3 peaks offering long easy lefts for hundreds of meters... if you can find the right one. Always expect the winter months to be busy with surfing lessons from every surf school in Barbados. Literally, every surf school comes to Freights in the winter. It is the most consistent, reliable and safe surfing break on the island. It is large enough to serve up waves for beginners and seasoned rippa's.
The hardest part of surfing Freight's Bay is getting your board up and down the stairs and off the sometimes rocky beach. Many a surfer has had their surf trip ruined by a moments lack of concentration exiting the water and their board damaged of destroyed on the shoreline at the bottom of the stairs. The waves surge up the beach on fuller tides into a funnel that is the stairs. The back wash can be cruel. The best way to be safe and save yourself from any injusry or damage at Freight's Bay is to always make a swift and timed entry or exit from the water and walk in and out to around waist deep in the water so that you can have some distance between yourself and the rocks.
5. South Point
South Point is just around the corner, walking distance, frmo our surf shop at Freight's Bay. South Point offers up a much more progressive wave than Freight's. It's a much better wave for shortboarders with multiple peaks going left and right. South Point can be super intimidating to a newbie and early surfer with lots of rocks on the shore line that look just like a cheese grater.
There are 3 easy points for entry and exit but all are rocky underfoot and can be slippery. There's the stairs which is a good quick cheat when its low tide, the first opening on the left as you walk down the path from the street and the beach down the furthest end of the break which does involve a quick scrabble across some rocks but its the safest place to get in and out.
The days with good swell you can expect some fairly strong current in the line-up and there is a near shore rip running past the stairs that you will have to paddle through strongly.
Pay extra attention to entering and exiting the water from any of the 3 points around full and low tide. On low tides the reef can get very shallow very quickly and on high tide the back wash can be very rough on the shore line.