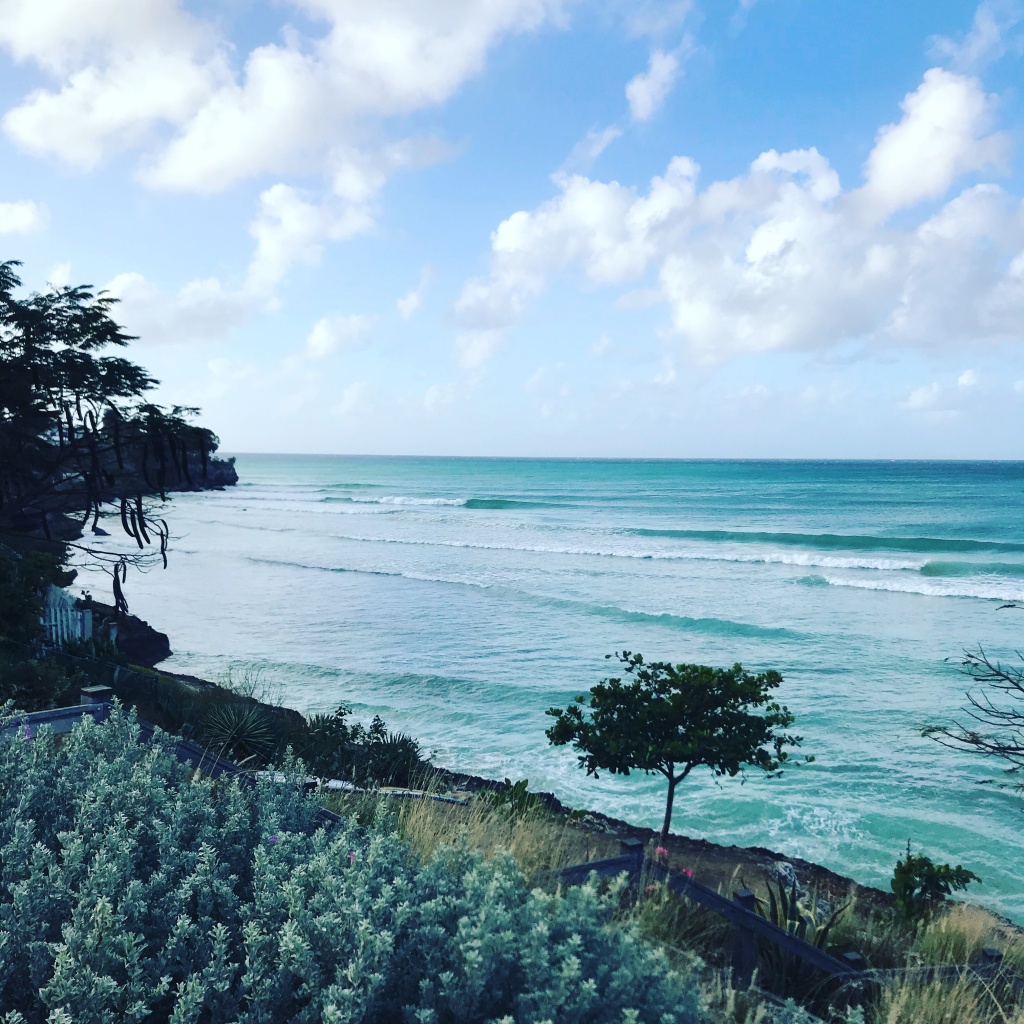 Barbados Surfing Winter 2019-2020
The winter 2019-2020 surfing season in Barbados has been a banger so far. November saw the beginning of the winter trade swells begin and Freight's Bay saw some steady early swells with some of the nicest waves for learning, progressing and just all out ripping… on a longboard. That's my speed, though, keep that classic longboard style. Keep it single fin and find the glide. Deep driving turns and plenty of tip time.
Freight's Bay has to be one of the nicest waves on the island and it's surely one of the most consistent during the winter months. It doesn't need much to make a wave at Freight's Bay and it is always offshore winds so the lines are clean and unspoiled by the trade winds. That's why we've chosen to make it the home of Ride The Tide Surf School and locate our surf shop & surf school there. You can find our surf shop just across the street and yards from the new gardens and improved stairs to the beach.
Once the winter trade winds begin surf is guaranteed in Barbados and that means the summer surf lesson spots are closed, too windy and too much current to keep surfing lessons safe, fun or effective. So we can leave behind the summer surf lesson breaks like Surfers Point & Drill Hall beach or Brandon's to those that surf and get back to our home break, Freight's Bay.
Surfing lessons for new or early surfers, the done some surfing or novice and have never tried it, should always be about rewards over work. That means lets get the most amount of waves possible with an easy paddle out and the best possible chances of successful waves ridden while standing. If the work rate out weighs the rewards and fun factor of successful wave rides then it's not a surfing lesson. It's just a paddling drill. So Freight's Bay is the place to be for surfing this winter.
Come December the swell and the waves just got better. Sometimes a little too good for surfing lessons. But that just meant we had to cherry pick sessions for our surfing lessons to find the waves suitable for our surfers skill level and experience. Waves this good we saw so many surf lesson customers come and join us a second and third time for more surfing lessons. After having so much fun in their first session and accomplishing so much in the high quality waves it's easy to understand why. I think it might have something to do with our 3-Pack deal on surfing lessons and the FREE surfboard hire for a whole week but who knows.
3-Pack of surf lessons are a great way to maximize your surfing progression with a surf coach in your corner for 3 sessions. And the free board hire for a week gives surfers so much water time to practice and develop before their next session with a surf coach.
Barbados potential as a premium surf destination is fast being realized. With waves for every level surfer and every break just a 40 min drive away from the last it's not hard to see why.
We are seeing more and more surfers return year on year and the demand for surfboard rentals has increased. Our rental quiver is now over 100 surfboards. I never thought we would get there but again this winter there were several days where we had no rentals surfboards left at the shop, all were out on the water. Glad they were not all at Freight's!
January, so far, has been amazing surfing. The crowds have cleared out after Christmas week and, although, that's a scary trend to see re-emerging it is expected. But it's never been such a quiet January in terms of amount of visitors and amount of surfers. Great for the traveling surfer. Uncrowded line-ups etc… and the waves have been better than ever and I don't mean along the south coast. The east coast has been impeccable this past week with strong North swells and SE winds making it super smooth and glassy at Soup Bowl.
That's the gist of in as of the last day in January. If you vent already booked your ticket start following the online forecast and webcams. Find your window and get down to Barbados and surf.
I'd say that if you're not bringing your own board with you start looking through our rental quiver and reserve something you like the look of. The nicer premium surfboards haven't been home in the shop much this winter. They've been too busy catching waves. If your see one you like and its available reserve it!
See you soon!!!